August 15, 2016  by Jeremy Lawyer
Editor's note: Jeremy Lawyer used a few different baits in his pursuit of schooling fish at the 2016 Forrest Wood Cup on Wheeler Lake, but his most important bait might have been a simple 1/2-ounce jigging spoon. What follows is the 2016 FLW Bass Fishing League All-American champion on how he targets schoolers with a spoon.
---
The jigging spoon was a big key for me making the top 10 at the Cup, but I didn't even have that spoon tied on the first day. On the second morning I opened my box and saw them and thought that might be the deal. I wish I had thought that the night before. It was like candy on the second day, and the third day they wouldn't even look at it. Then the last day it was the deal again.
That's a really popular bait back home in the Ozarks, and we use it all the time. There are really two keys to it. First, it's real erratic. They'll chase it up, and then it can drop back down and they'll react to it. The second thing is that you can throw it a country mile, though, in the case of the Cup, I didn't have to cast a long way very often because I was only fishing in 2 to 5 feet of water.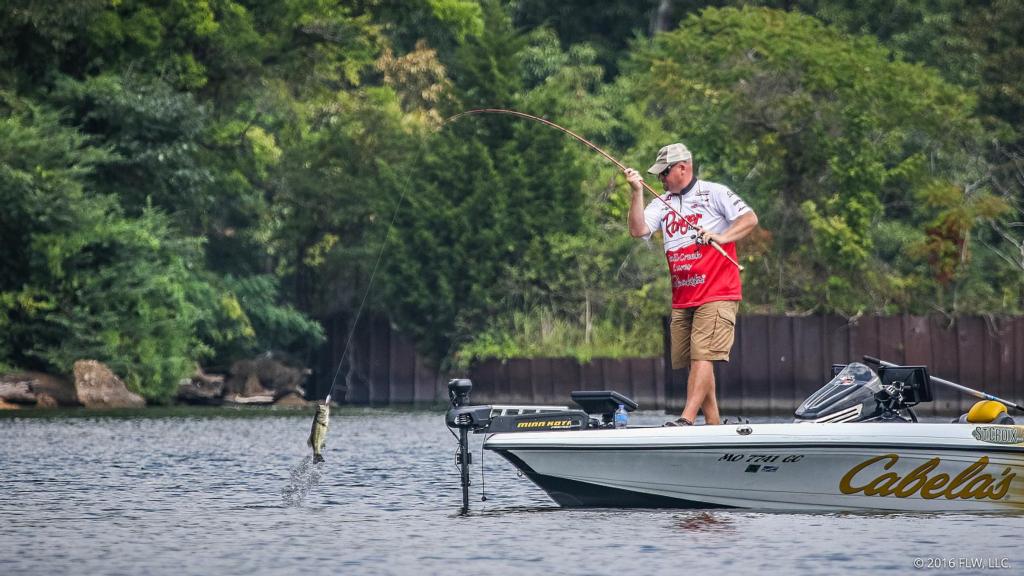 The technique
A lot of times big fish won't commit to something on the surface. Instead it's those 1-pounders exerting all the energy up there. If you throw something like a Fluke or a topwater bait it never gets through the school without a little one eating it. That's why with the spoon, the deeper you fish it, or the closer you can fish it to the bottom, the better it works for bigger fish.
With the jigging spoon, if it's deeper, I normally snap it a few times as it comes up. But at Wheeler I caught almost all my fish in 2 to 5 feet of water. It was so shallow that if I didn't give it a big sweep then I could never get it off the bottom, so I was trying to sweep it up a long way and let it fall back.
The whole key is the erratic action. So many people pulled up on the school I was fishing at the Cup and threw walking baits or swimbaits or shaky heads, but nobody threw a spoon. Even when tried a 1/8-ounce spoon and a little skinny one on a spinning rod, I couldn't get a bite. I think those lighter ones on the long casts just weren't falling with any action because they were dragging so much line with them. It had to be the bigger spoon.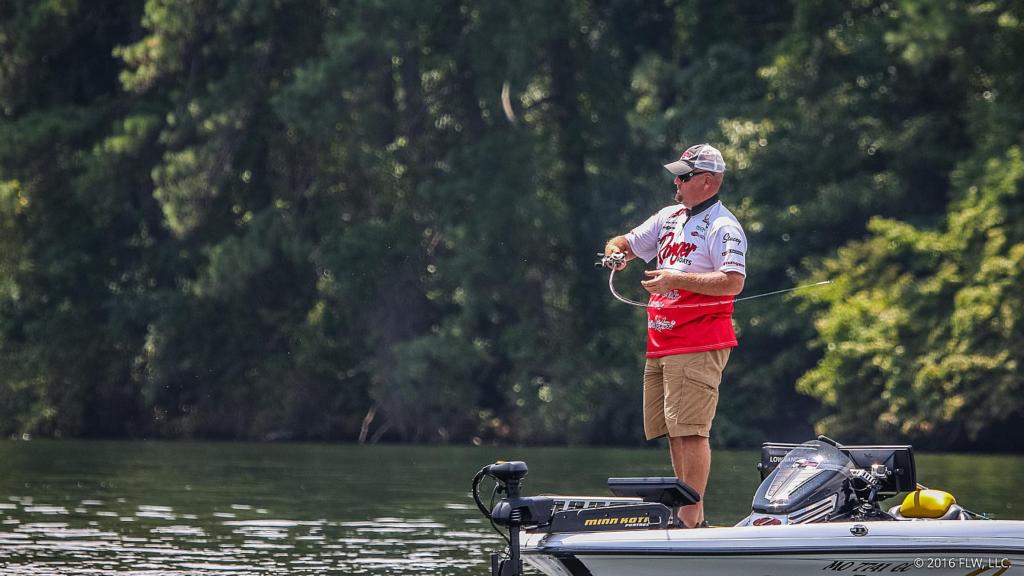 Tackle considerations
In winter I use a jigging spoon a lot too, but then you're vertically fishing right over them with your trolling motor. When you're vertically looking at them you're making short snaps. For that I use a shorter rod and 10- to 12-pound-test line, and that allows the spoon to fall on a nice slack line and have a lot of wobble.
In the summer, casting it to schoolers, you need a little heaver line because you're throwing it harder. And I use a 7-6 rod with a soft tip to take the slack up faster and a high-speed reel to help too.
I carry a regular unpainted chrome spoon and chartreuse and white, but all white is what I throw 80 percent of the time. Sometimes I'll put a dot about the size of a pencil eraser on both sides with a black Sharpie. I don't think it's critical, but it gives them something to aim for.